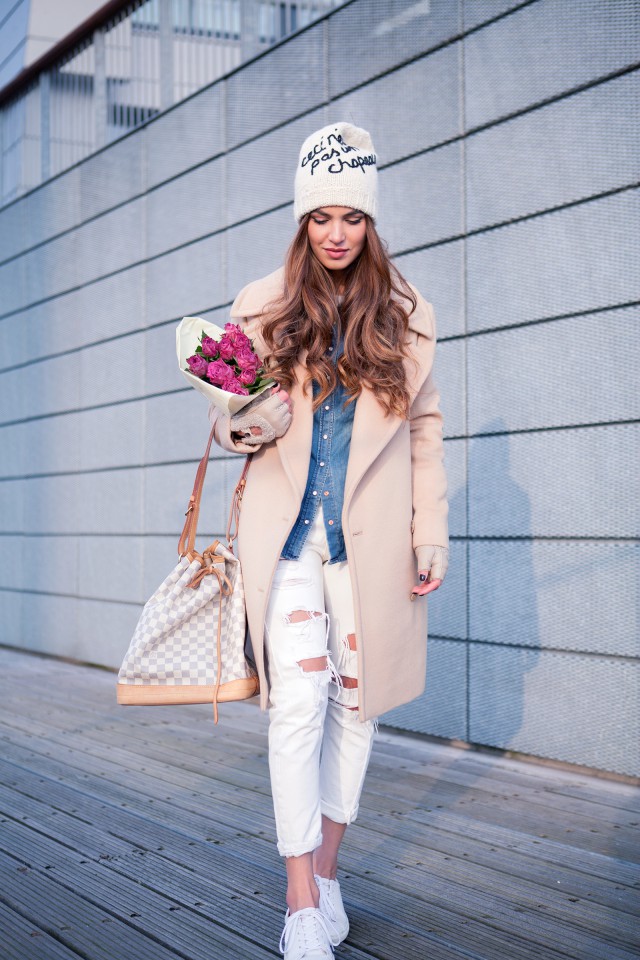 I like to believe that my wardrobe is an extension of my creative persona. Settling on one specific look is nice, but sometimes it's fun to mix it up a little. This way I'm given the chance to express myself differently everyday and that's exactly why I've always loved fashion!
I have to admit, I'm a hopeless romantic at heart, so when the weekend rolls around and I get to spend time with loved ones, my clothing choices are often influenced by those nice flirty feelings. As I was on my way to meet my mom for a lunch date, I thought I'd pick up a bouquet of roses as a loving gesture. How beautiful are they? On this particular day, instead of opting for the strictly romantic (could have worn a dress), I decided to harmonize this lovely soft colour palette with some clean pieces. It's so nice to mix sporty and girly items at the same time, don't you think?
Combining neutral colours is the perfect way to achieve a feminine athletic look. This beige wool-blend coat is great when you pair it with white ripped boyfriend jeans and low top sneakers. The lightweight button down denim shirt adds a laid-back feeling, which makes it a great choice for a weekend lunch date. I also really adore this René Magritte (famous for the phrase, "Ceci n'est pas une pipe") inspired chunky knit hat. Unlike Magritte's surrealist art, this is actually a real hat (or is it?) so I like the fun twist! I mean, to me fashion and art go hand-in-hand, so why not take well known works and add them to your wardrobe? It definitely tops off the look, don't you think?