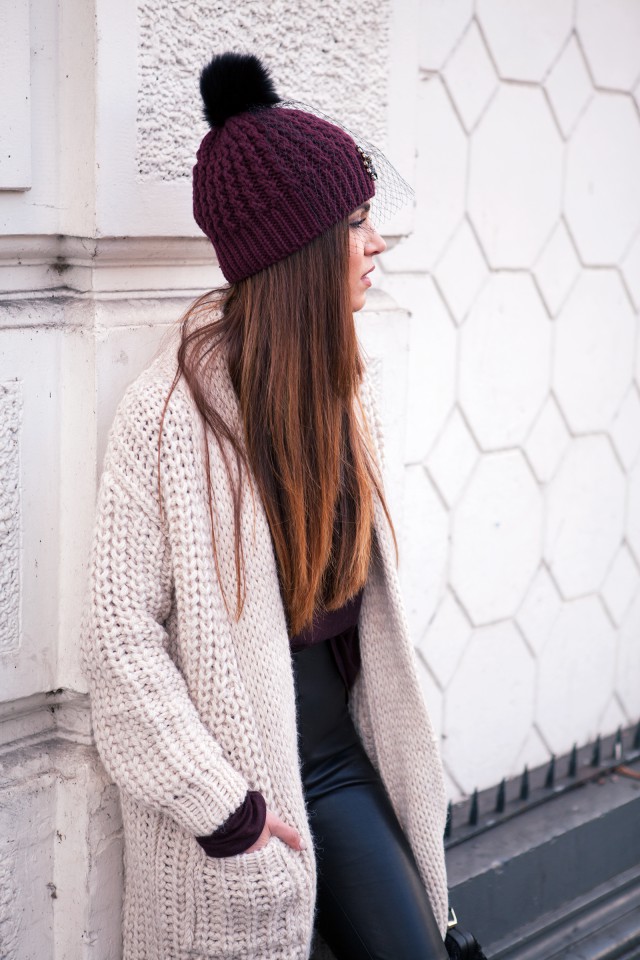 Hi everyone!!! Hope you all had an amazing time the past few days. I don't think there's anything in the world that makes me more happy and grateful than to spend so much time with my family and loved ones. We laugh, we fight, we tell each other stories and secrets, goof around, make fun of each other (aka annoy my sister until she freaks out). x Ps. am I the only one with sore ab muscles? Either we laughed too hard, or my ab muscles are a tad bit weak. Enough reasons to hit the gym from tomorrow on, considering all the yummy food we ate.
But since the festivities just came to an end I figured it would be a perfect occasion to share a typical wintery look with you. Outfits like these are ideal for those days between Christmas and New Years Eve, as these pieces are effortless, casual, and warm at the same time.
Here in The Netherlands we have a mild winter, but still I like to pull out my wintery accessories such as this burgundy colored beanie that features fun elements like a black veil, faux fur pom pom, and an embellished detail. I decided to snuggle up in a chunky knitted cardigan from Zara in a light sand color combined with a pair of leather pants (from Zara as well), which are definitely my favorite. To finish it off I put my Acne slip-ons on, which suit the comfortable feel of this look perfectly.

I was wearing
Long Knit With Pockets
Soft Jersey Roller
Faux Leather Legging
Slip-on Loafers
Cornely Bag
Beanie with Veil