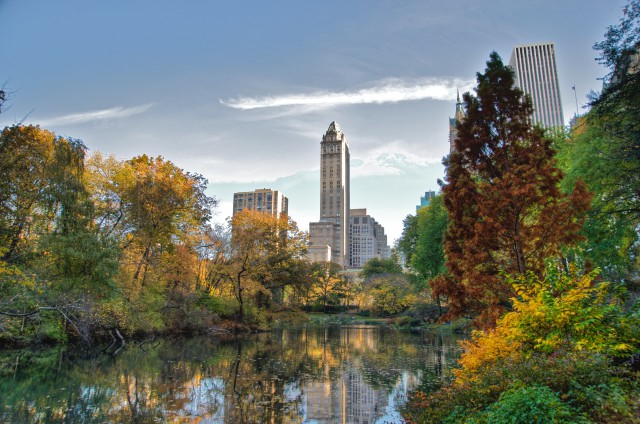 One of my favourite places in New York? Central Park. I guess you guys have seen it in so many TV-series and movies, so it probably comes as no surprise that it's the most filmed location in the world. It's a big contrast to the rush of the city surrounding it, which is quite amazing. It's such a peaceful and inspiring location. As one of the most famous sightseeing spots in New York, it cannot be missed on your to-do-and-see-list during your stay here. There's always something to enjoy, at least the 40 million visitors each year proves that H

Through the years
Today we know New York as the city that never sleeps and it has been like that for a long time: many years ago, NYC was already full of busy bees. The city was growing and growing by the country's first big wave of immigration. Besides this, there was a public health crisis because of the harmful environmental conditions. As a result of this city expanding and the health issues, there was a huge need for open, fresh, and healthy spaces to get away from the noise and chaotic life of the city.
To solve this unrest of the New Yorkers and improve the public health, the state came up with an idea for a public park, and appointed a commissioner to oversee the entire development of it. This Central Park Commission held a landscape design competition in 1858, which landscape designer Frederick Law Olmsted and architect Calvert Vaux won with their plan. You can remark on their craftsmanship in this masterpiece! It's almost entirely artificially created though.
With its 156-year history, Central Park has gone through several developments and restorations over time and became an oasis for clearing your thoughts and enjoying your free time as a habitant or tourist of this cosmopolitan city.

Things to do
During your stay on a holiday or even when you're a local, you can enjoy many pursuits in the park. No matter the season or the reason: time for some touristy stuff, don't you think?
Relaxing lawns
As a huge green grass lawn in the centre of the park, the Great Lawn is the perfect spot if you're looking for a special picnic place or a chill sunbathing moment, surrounded by many sweet squirrels you can feed. With several baseball fields, basketball courts and an annual place for concerts and plays, this is also a must-go for sports and leisure activities. Another famous quiet escape is the Sheep Meadow. Earlier this green meadow has been the place for 200 sheep for several years until they were replaced to other parks. In the years after that, this lawn became a meeting spot for several demonstrations and political movements, as well as concerts, the annual 4th of July fireworks celebration and even the televised moon landing in 1969.
Activities
For the runners among us, the 1.58-mile track around The Reservoir is a fun exercise to do. It gives you one of the best views of the city skyline! Besides the thousands daily runners, Jackie O. (it's even named after her: the Jacqueline Kennedy Onassis Reservoir), Bill Clinton, Madonna and many other influentials have taken the track here. So it better be your next favourite jogging spot too right? H When you're more into a relaxed water experience, you should visit the Loeb Boathouse. Here you can rent rowboats or an authentic Venetian gondola for a romantic trip. Afterwards you can enjoy a lovely dinner at the Boathouse Restaurant with a beautiful view at the Lake. So what keeps you from waiting to do this?
Tours
If you prefer a guided tour in the park, there are many different ones to choose from: you can go for a romantic horse & carriage ride or pedicab ride, take a bike, vespa, or guided walking tour, or rent a bike and go on the adventure yourself. Last, but not least, you can download the Central Park app on your mobile and use it to explore all of Central Park. How handy and fun is that?
Events
Next to these many attractions the park already has, there are also many concerts and events to enjoy at many places around the park. Take a look in the event schedules on the websites.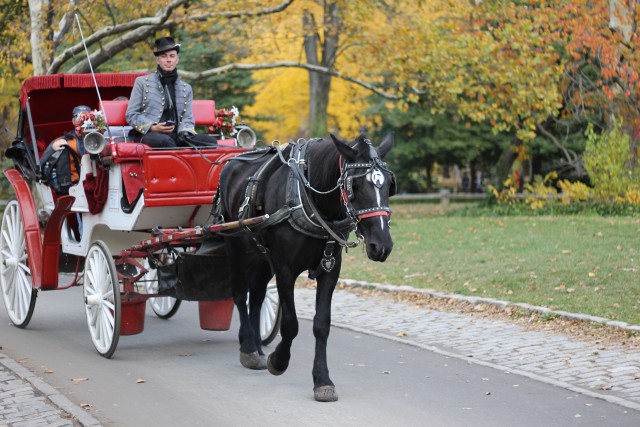 Must-sees
Next to all the fun things to do in the park, there's a lot to explore as well:
Strawberry fields
If you want to relax and clear your thoughts you should definitely consider this quiet zone in the park. It was designed as a garden of peace in 1981 in honour of John Lennon, Beatles musician and peace activist, who was murdered near the park out front of his apartment at the Dakota. Since this area was his favourite relaxing place in Central Park, this place has been named after the title of the Beatles' song 'Strawberry Fields Forever', and a black and white Imagine-mosaic now lies in the centre of this zone. I think this is a great tribute to him for his talent, but also a good remembrance of his Imagine-vision: a hope for a world without war and conflict. Let's keep this spirit alive.
Building-hotspots
The park has also many other beautiful sites and buildings to offer. For a panoramic view, go to this folly castle: the Belvedere Castle. Like the name tells you (Italian: beautiful view), you'll enjoy a gorgeous view over the park. Besides this, the castle is the official weather station of the city and a nature observatory, so it teaches you about the nature and wildlife of Central Park. Of course you can't skip 'the heart of Central Park', better known as the Bethesda Terrace. This beautiful terrace with grand steps and carvings gives you a breath-taking view around. Or visit the open-air amphitheatre, the Delacorte theatre, where several festivals and theatre shows are held, like one of NYC's most beloved summer traditions Shakespeare in the Park. Next to these buildings there are many statues to view, like the famous Alice in Wonderland statue and the huge Obelisk.
Water chillings
Besides visiting the beautiful lakes of the park, on top of the list for a romantic setting you have to visit the Bow Bridge. This is my favourite bridge because of its beauty and shape. You'll be crowded by a bunch of other couples, but this won't really bother you when you are standing on this magical bridge, with the love of your life A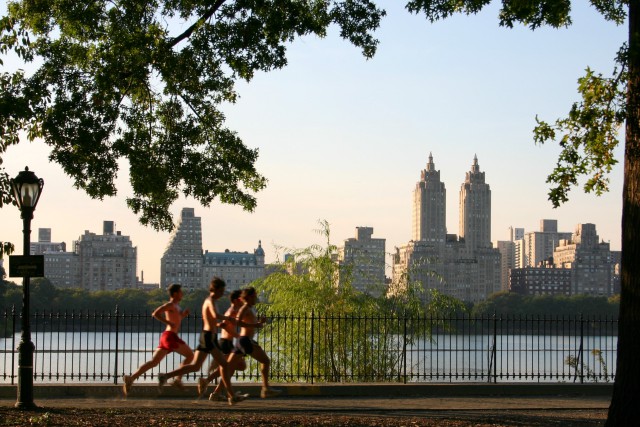 This was just a few of the special things about Central Park, but there's many many more to explore. What about a romantic picnic with your partner or a jog session around the park with your friends?

SOURCES:
Centralpark.com
Centralparknyc.org
Pinterest
Gettyimages
Flickr