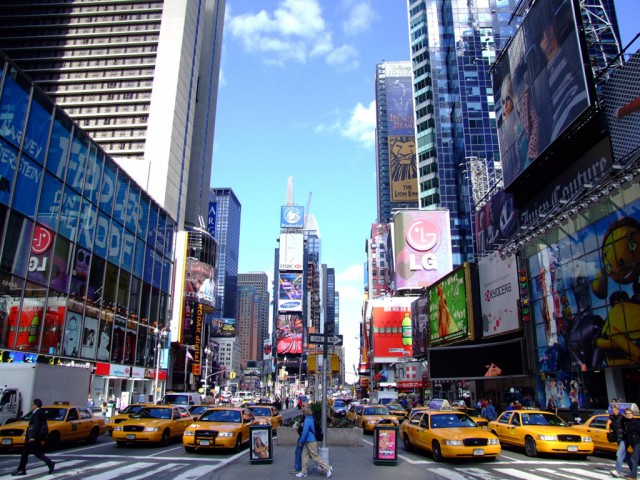 Being the fashion capital of the world, obviously this city offers you unlimited shopping options. A big Walhalla for real fashion lovers (like me H) with all the different shopping areas, from cute little streets boutiques to the well known stores on Fifth Avenue. Next to these specialty stores there are other ones, always full of people, which will give you a true New York City-experience: the huge department stores. And these ones in New York know how to please the fashion lovers. Mark the following six best stores on your shopping-tour list and make sure to take a peek inside when you're in the city!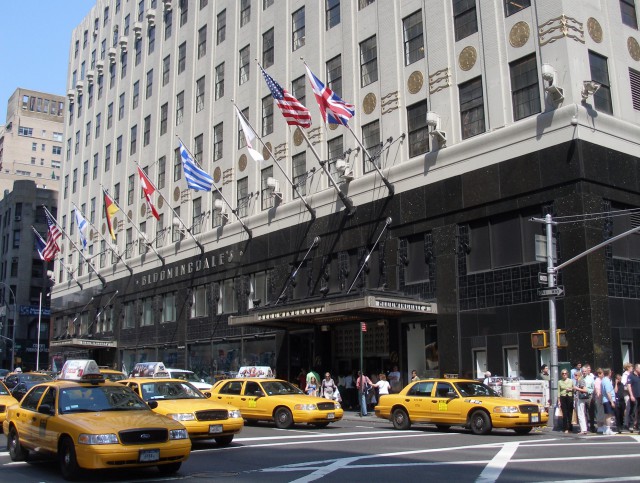 #1 Bloomingdale's
This department store is the most suitable when you're with the whole family. With the best trendy mid-priced offerings of American brands, you'll definitely find something you love here. As one of the earliest high-end department stores, Bloomingdale's today has successfully shifted to targeting a younger generation of consumers as a result of the big variety in labels. Next to the 'family-fashion', there are home, beauty, jewellery and accessories sections as well. Besides this, they have a huge selection of lingerie. Because of this wide range of goods, without any high-end fashion brands, the store has a more laid back with more focus on the younger shoppers, business people and tourists rather than luxury fanatics.
Don't miss: The one in Lexington Avenue has a delicious frozen yogurt shop inside!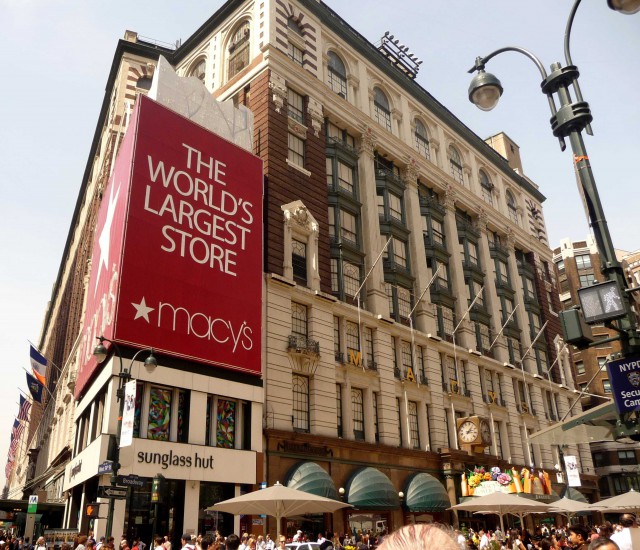 #2 Macy's
Macy's is one of the most famous stores in the world, known as the 'World's Largest Store' with its ten floors of shopping. Handy tools are the store maps and customer service information desks, which direct you to what you want. Step into Macy's if you like popular brands such as Guess, Esprit, Levi's, DKNY or more exclusive American names like Ralph Lauren and Calvin Klein. So many items to choose from, plus in many different price ranges: you'll find everything in here!
Special: you can ask for the Macy's By Appointment-feature, which is a personal shopper service that will help you in finding out what you like and then get it for you. Sounds perfect and convenient, in such a crowded place!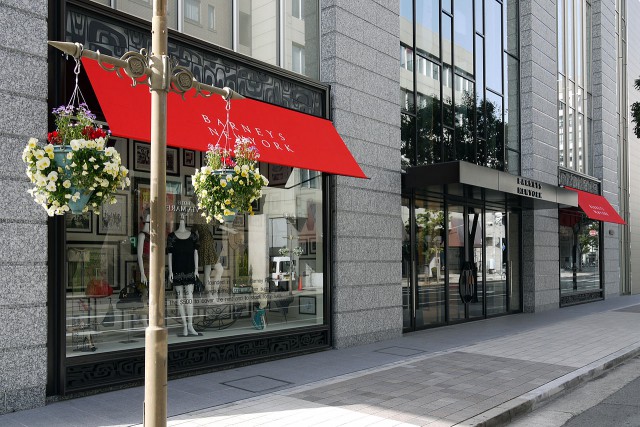 #3 Barneys New York
Another famous shopping destination known by many TV-series and movies is Barneys. This one has the most progressive, coolest and hard-to-find brands out of all these other city's department stores. With their modern spirit and edgy designers, this one is my favorite, because it seamlessly suits my style. Fresh runway labels like Alexander Wang, Lanvin, Acne, Prada, and many others are represented here. Besides the trendy high-end clothing, they have a large perfume section and conveniently you don't have to go somewhere else if you're starting to get hungry or desire a shopping-break. On the top floor at Fred's you can have something nice to eat or relax a bit.

Fun fact: Twice a year (February and August), there's a 'Barneys Warehouse Sale', which is huge! With the best discounts on top brands (even on the couture pieces!) this annual event is a must-go. Have you seen the sale-scene in the movie 'Confessions of a Shopaholic'? You will see exactly that! Prepare yourself to struggle and fight for the treasures you'll find. Ready to get crazy? Safety last H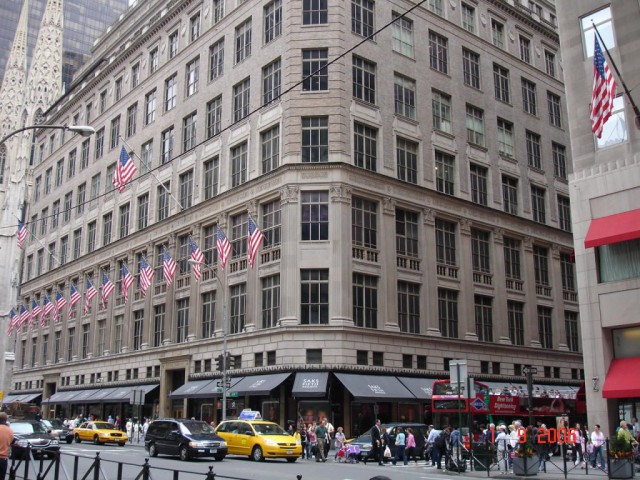 #4 Saks Fifth Avenue
For the more classics like Louis Vuitton you can't skip this other shopaholics paradise on your NYC-shopping tour! American big-name designer labels, as well as many top European designers are sold here. In here the runway styles come to life and you'll be satisfied with lots of quality and a big selection of luxury brands. Due to the specific selection the store attracts more of the Upper East Side elite. For you to get really inspired, this is a very nice store to visit.

#5 Bergdorf Goodman
A real mecca for Sex & The City lovers: the favourite shopping spot in this TV-series for Samantha to buy nice wedding gifts. Instead of drooling in front of the TV, go check it out for yourself, now that you're in the city! At Bergdorf they offer high fashion and top designers, just like the other department stores do. Bergdorf Goodman is known throughout the world for elegance, luxury, and their great customer service.
Must-see: The restaurant on the seventh floor 'BG' and the dressing rooms, they have stunning Central Park views!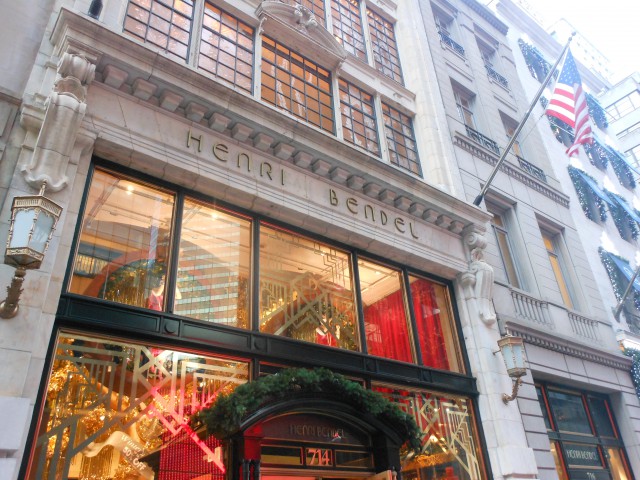 #6 Henri Bendel
For over hundred years Bendel is heaven for fashion addicts. Although Bendel doesn't offer clothing, it's a must-visit for fashion accessories, designer handbags, and designer jewellery. Now they also attract a younger, hipper crowd, because they constantly try to be innovative and look at fashion through the eyes of the next generation. This makes them one of the best in their niche. Their hair accessories collection is well known because of their amazing feathered or studded statement pieces from upcoming designers. Besides this, the jewellery collection is exclusive to Bendel's. Of course all of this is packed in the legendary brown and white striped shopping bags and hat boxes.
Must-do: Once in a while the store gives designer trunk shows, this way they give the opportunity to the public to discover new talents before the mainstream does.
Besides these department stores, I have one left to share with you: Century 21. This is where you'll save big: You can get modern designer leftovers that are up to 75 percent off!

SOURCE
Nymag.com
Nyc.com
Nyc10best.com
Pinterest
Gettyimages