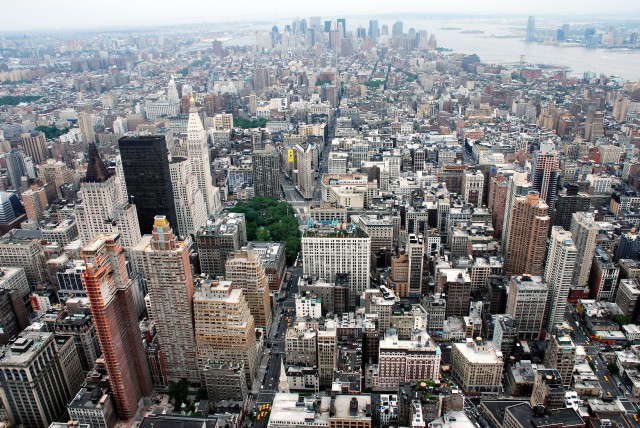 Sipping some cocktails while chatting with friends is fun, but when you're on top of the world with some spectacular breath-taking views surrounding you, it is priceless. In a city known for its iconic skyline, I've selected the best of the best when it comes to rooftop bars across Manhattan, ordered in different neighbourhood settings. At these twelve rooftop bars you can enjoy a 'jaw-dropping' birds-eye view of Manhattan's towers, terraces and other Midtown buildings.
Are you more into fancy evenings, dressing up, and partying hard with skyscrapers in the background? Or are you more into relaxed and comfy vibes with a peaceful and cozy surrounding? Don't worry; I've got you all covered H With these fairytale-like options, it's impossible not to enjoy yourself. Besides, these open-air destinations really bring your party nights into a new dimension.

Midtown (East-West)

#1. Mad46 Rooftop Lounge
At the top floor of the Roosevelt Hotel you'll find this first amazing rooftop. It feels like a hidden 'One Thousand and One Nights'-oasis because of the plants, flowers, and rope lights draped over luxurious but cozy lounge corners. You can reserve one of these dimly lit spaces with bottle service to relax if you want to hide away. Or you can mix and mingle with the 'after-work' crowd of Manhattan, or go 'mad' on the dance floor on Saturdays. Must-try: the Mad 46' specialty, the Mad Mojito A


#2. 230 FIFTH
The outdoor rooftop garden of 230 FIFTH is the city's largest and one of my favorites. It's open every day, how cool is that! Besides the outdoor portion, they have a fully enclosed Penthouse Lounge underneath for the rainy days. And for the chilly nights they've come up with the great solution of partially heating the rooftop. During winter time you can choose for a FIFTH transparent bubble tent as well. In these fun see-through igloo-like tents you can enjoy some drinks, the heat, comfy sofas and watching TV inside. At the roof deck surrounded in a summery jungle-looking place with bubbling fountains, palm trees and wooden benches, you can relax and enjoy some drinks and music after a long day at the office or shopping at Fifth Avenue. Although it's huge, this deck gets packed pretty soon, so be sure you're on time and you will have a good time with your friends. You could stare at the Empire State and the Chrysler Building or the eye candy inside of the bar H

#3. Sky Room
Do you dare to visit the city's highest rooftop? Step on in at the roof deck of Marriott's hotel in Times Square, called the Sky Room. Occupying the 33rd and 34th floors it offers five distinct spaces to visit: The Times Square Lounge, the Cube balcony, the Private Salon, the North terrace (with a retractable roof) and the South terrace (with private spaces). Check out the ceiling's LED lighting display as well, very cool. Doing touristy stuff for a whole day will tire you out eventually, so once you are in Times Square take yourself upstairs to recharge at the comfy white design benches and enjoy some cocktails (with catchy names like Mile-High) while soaking up views of the Hudson River, the Empire State Building, and Times Square below.

#4. Press Lounge
At the Ink 48 Hotel you will find another beautiful rooftop deck with an amazing view of the city. In addition to these views of the skyline, there is a reflecting pool, a glass-enclosed lounge and seating for more than 100 guests. So, plenty of space to relax in one of those cute round chairs A What makes it even more attractive? You can get some oysters or Bloody Marys among the Midtown crowd, and watch the pretty sun set.

#5. Hudson Terrace
When you're crossing the street from Press Lounge, you'll find another one of Manhattan's high-class roof bars, next to the river downtown in Hell's Kitchen: the Hudson Terrace. Over here you can enjoy nightlife as well as lounge or private events. The nightlife scene is known here for its large crowds and loud music, but on the other hand you can get together with friends and taste some wines at Wine Down Wednesday in a more quiet and comfy vibe. Just like the other roof bars, Hudson Terrace has a climate-controlled retractable roof to have an all-season exterior space, next to their lovely intimate interiors. And remember the Sex & the City scene where Samantha takes it upstairs for some romance with Richard? Yes, it happened here H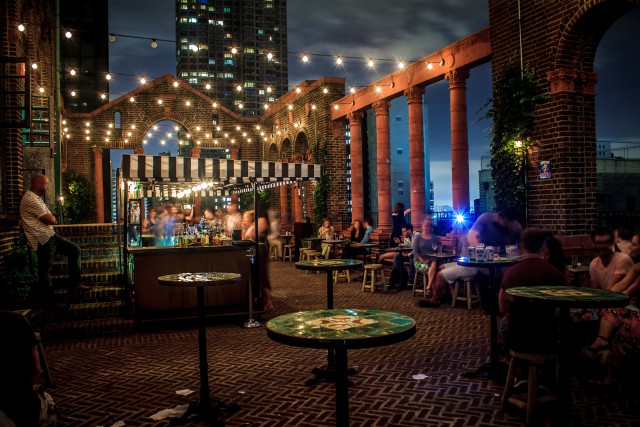 #6. Pod 39
As the motto of the Podhotel says itself ("stay in the heart of all, without spending it all") you can enjoy your stay at the Pod39 in the middle of Murray Hill on budget. So next to the midtown workers or partygoers, you can meet up with many backpack-budget travellers on top of this hotel. This beautiful red brick columnated setting will give you a feeling as if you were abroad in Spain or Mexico. During summer they offer watermelons with drinks in it, how fun is that? I know for sure you will love this laid-back friendly vibe over here!

#7. Salon de Ning
Since I'm a big sushi fan, an Eastern-inspired rooftop couldn't be missed on this list. On top of the Peninsula Hotel, the Salon de Ning was designed to evoke the glamour of 1930's Shanghai. The furniture (stylish daybeds of carved timber) and Asian-inspired cocktails and snacks match with the theme. I love this East meets West interior - it looks so chic and sophisticated, but very quaint with the candles, colored pillows and plants. On one side you'll have a great view of Fifth Avenue and the other side will show you amazing views of Central Park and Midtown buildings. In this pseudo-zen space you can really escape the Fifth Avenue madness below and de-stress.

#8. Hotel Gansevoort rooftops
This Gansevoort Hotel Group on Park Avenue is my number one must-go for sure. They are one of the few hotels with a rooftop pool, ideal for sunbathing and city-escape daydreaming. It really looks like a palace with their handcrafted mosaic tiling, indoor/outdoor pool, lounge areas, fireplaces, and balconies with stunning views. This packed place is to see and be seen; you can enjoy stylish pool parties and sip on some cocktails while mingling with new people. There's another Gansevoort rooftop at the flagship Meatpacking District location with a lounge bar called the Plunge, which looks very chic as well.

Lower Manhattan

#9. The Jimmy
Looking for a bit Miami Beach flair in Soho? Located at the James hotel this rooftop bar has that sexy and social atmosphere for a perfect daytime or evening experience with your friends, colleagues or a date. Whether you came for relaxing and swimming or partying and dancing, in the warmer months the Jimmy guarantees the best time with its ultra-luxe lounge with glass walls, a crystal-clear pool, and a 360-degree view of the Manhattan skyline. Next to this rooftop deck, the Jimmy has an enclosed bar and lounge as well for those cold times. This indoor mini-party mansion is a modern interpretation of the classic pub, with a 70's New York twist, which makes it quite intimate and cozy.


#10. Le Bain
Another good option in lower Manhattan is this penthouse discotheque and rooftop bar at the trendy Standard hotel: Le Bain. Around Fashion Week this is really the number one hotspot to go to. The roof is grass-covered and the wicker chairs, white picnic tables, and large round pink waterbeds gives the place a fashionable look. Don't skip the lower-level room with floor-to-ceiling windows and a jacuzzi. Here you can dance the night away at hip parties with top-notch DJ's. During the summertime there is even a crêperie to enjoy some lovely snacks while relaxing in the sun.

#11. Soaked
At the Mondrian Soho Hotel, where we spent our time during our last visit to New York, there's a cute grass-covered rooftop to chill at as well, called Soaked. Just the right name for a cozy 'break-spot' when you're soaked from all the shopping or strolling around the streets on a hot summer day, don't you think? At this highest rooftop of Soho, you can lie down for an hour of tanning on the grass or you can enjoy some healthy cocktails made from cold-pressed, organic juices or teas. Take the coconut-water cocktails: delicious! Also I recommend calling them before you plan to visit them since they're not always open.
Upper Side

#12. Empire Hotel Rooftop
Once you've reached the Upper West Side, you can take a break in this chic rooftop city bar. It offers gorgeous views of Lincoln Center and Central Park. With a lush, grassy background you can enjoy some of their elegant signature cocktails and small plates while relaxing in the corners equipped with couches and listening to some live entertainment. All week long there's music: from celebrity DJ's on weekends to live jazz on Mondays. Next to the outdoor rooftop terrace The Empire Hotel features an indoor bar, the Penthouse Lounge, with floor to ceiling windows as well. Although you may want to go inside because of the cold, you can party throughout the winter on the rooftop; there's a glass convertible roof and a gas fireplace.

SOURCES:
Refinery29.com
Huffingtonpost.com
Newyork.cbslocal.com
Thrillest.com
Allrooftops.com
230-fifth.com
plus.google.com