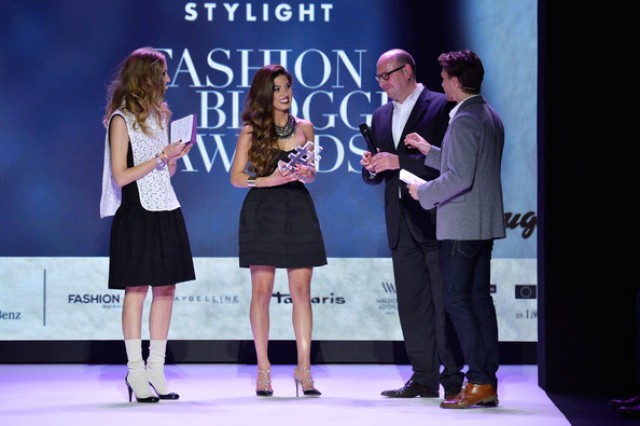 Triple YAY!!! D It really is a challenge to express the joy, happiness, and excitement I'm feeling on the blog. Anyway, we did it you guys. Thanks to all your love and support my blog has been awarded for 'Most Promising Fashion Blog' by Stylight!

As most of you read my one-year blog anniversary I will not repeat the same. For those who haven't seen it you can find it here. But I just wanted to say the same words I said in the speech I held in front of 750 people at the Stylight awards. You can probably imagine how nervous I was, my voice was shaking like crazy. One year ago I started this blog, sharing the love and passion I have for fashion and all others aspects involved like beauty and lifestyle. I had a clear vision when I started but I could have never imagined and hoped that it would turn out such a success in such a short period of time. But of course I wasn't able to do this without your support. You guys keep me going and I'm beyond excited to share a new adventure with all of you! Can't wait to see what this year will bring us.

Of course I want to thank the amazing team of Stylight for organizing such a special event and for uniting all bloggers. I had such a blast meeting other bloggers and after the awards we danced the night away. This wasn't possible without the team of Stylight who managed to organize every single detail perfectly. And above all, I want to thank Stylight and Douglas for supporting and believing my goals and vision. A

Here are almost all the photos I was able to find on the web in combination with some iPhone photos I took. Ps. I met a lot of sweet readers that night and we took a lot of photos. I'll post a collage soon on my social pages.