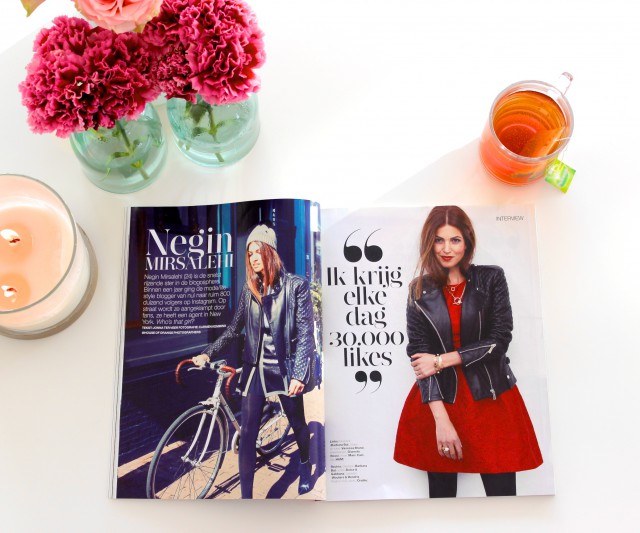 Here's a closer look of my 6 page interview in the Marie Claire which obviously I'm incredibly proud of. A As most of you saw in the behind-the-scenes post I shared a few months back we worked with a great team of professionals and it was such an incredible experience.

The interview mainly went about how I started my blogging adventure. Diving deeper into social media channels like Instagram and how I started all of this one year ago. We also talked about how crazy things have gotten, that I get the sweetest messages/ drawings from you guys and of course how it all began. I'm going to dive a little bit deeper into the three main quotes for you guys.

First quote: "Everyday, I get 30.000 likes". of course that's not something I said out of the blue. The interviewer asked about it and it was based on Instagram where things indeed tend to get a little crazy. I sometimes still can't believe that some photos get 30.000 likes or more. One photo even got 45.000 likes, How crazy fun is that?!
Second quote: "From 8 am till 4 pm I was writing on my thesis and from 5 pm till midnight I was working on Instagram". In this story I get back to how I started on Instagram and that I had a pretty structured schedule to grow on Instagram and to share photos about the passion that me and my followers share mainly about fashion, beauty, and lifestyle. And after my graduation last year I fully started to focus on my blog.
Third quote: "At the Zara counter a few girls recognized me from my blog". This was the first time last year a few sweet girls recognized me, which you can imagine is a pretty crazy idea but at the same time so much fun. Last saturday I went to the city and I was recognized by 5 girls who all came to have a little chat and take a photo together. I really enjoy meeting you guys.A

Anyway here are the photos I hope you like them! For now I'm off to do a fun Christmas make-up shoot for on my blog. Can't wait to share it with you. Have a happy Tuesday!