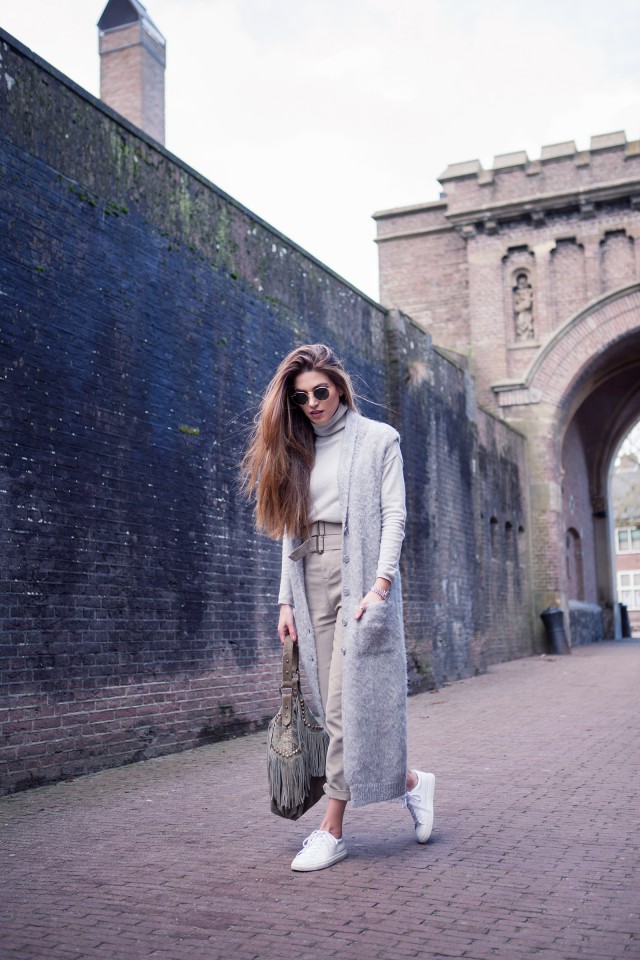 As you know, my clothing choices usually reflect the atmosphere outside, so please take comfort in knowing that dressing up for a cloudy day doesn't have to be black all the time. Though the weather might influence your choice of outfit, don't let it impact your mood. As author William Arthur Ward once wrote,
"A cloudy day is no match for a sunny disposition."
And he's right! Your smile might be your best accessory, but a cute fringe purse never hurt either. On this particular cloudy day I was inspired by the colors of our location and decided to stick with earth tones that reflected the environment. This soft longline sleeveless cardigan paired with these double belted trousers is the perfect combination of casual chic. I like the way that the vest is the same length as the pants and sways when I move, almost like a dress, and layering it on top of a turtle neck is great because it keeps you warm, but fashionable.

The two belts on the trousers make them more high fashion, but because I paired them with clean low top sneakers, the overall look has an understated elegance. Now, wear a set of heels with these pants and the look is taken to another level of refinement, more suitable for dinner out with friends or even the office. I love it when clothing is so versatile. It makes the getting dressed process more fun, don't you think?
My favorite part about this look is how each shade complements the other to create an easygoing vibe and laid-back outfit that is perfect for a day of walking around, maybe even enjoy a healthy juice like this one. I really love to drink green juices during the summer time because I find them to be quite refreshing, but why not enjoy them in the winter too? I think they're a great way to boost your energy during the cold months and makes for a good alternative to a hot beverage. The kind I got (which is so delicious!) is a mix of spinach, apple, pineapple, and lemon. How can you not feel rejuvenated and happy after one of these? You must give it a try.