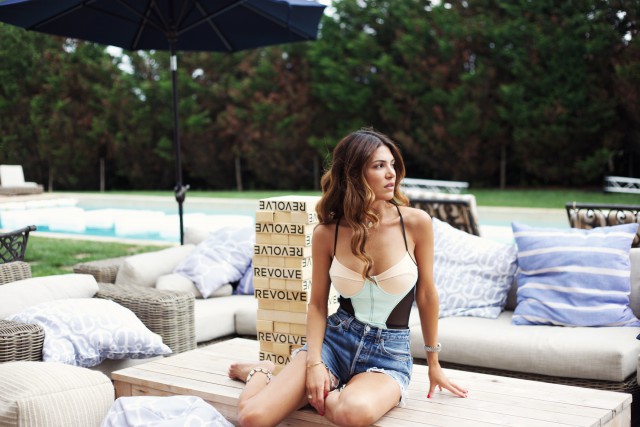 This blogpost is in collaboration with Revolve.
As most of you guys know, I got so spend some time in the Hamptons with Revolve clothing and let me tell you, the whole experience was beyond what I could have ever imagined. I didn't really know what to expect before arriving, but now I totally understand why New Yorkers would want to escape the hustle and bustle of the city for a place like this. It's a great location to getaway and recuperate, while also getting to experience something fun and completely different from the city life.
When we arrived at the Revolve house it didn't feel real. They always do such an incredible job of decorating and organizing so many interactive activities. I loved spending time with everyone there, whether we were dining on the beach or visiting at the pop-up shop in Montauk, there was never a dull moment.
While with the Revolve team, I was excited to be introduced to their new line called Privacy Please, which I am now officially obsessed with. The blue kimono that I chose to wear from their line is the epitome of everything I love about it. It is so chic, sexy and comfortable, making it the perfect choice for this summer weather! I could wear it everyday, whether I'm lounging at home or hanging out with friends at the beach. As always, versatility is key! Even bathing suits can be versatile. I really like the color blocking on this one piece swimsuit from Revolve and felt that pairing it with denim shorts enhances the sophistication of the suit and makes it appropriate to wear outside of the pool area. When I wasn't wearing a bathing suit with these shorts, I chose to pair them up with this lace-up blouse.
It was definitely sad leaving the Hampton's and all of our new friends at the Revolve house but I know we'll see them again soon (very soon, can't wait to share more)!