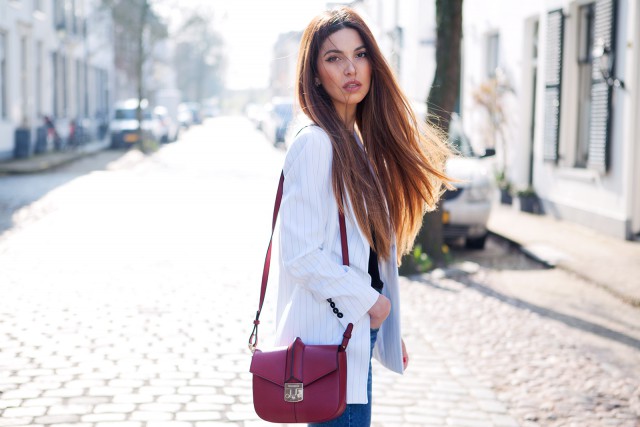 Good morning from the car. We are now on our way to Schiphol Airport since we are leaving for Seville to shoot a special project for a brand that I'm really passionate about. Can you guess? Maybe you saw the little hint I left on Instagram? I'm so excited about it and I can't wait to share more with you guys. I think we've found a really special and unique location for the shoot so make sure you stay tuned A I just love getting to share my adventures with you guys and I hope you're as excited as I am! I guess my home routine didn't last very long did it. Oh well! At least I got to enjoy a little bit of relaxation and had some fun dressing up some casual garments. And what better way to dress up an outfit than with a sleek suit jacket like I did in this look?
Suit jackets are largely thought of as a dressy item, but they don't have to be. It's all about finding the right casual garment to pair it with and I think that one of the best laid-back pieces to pair a jacket with is a good pair of jeans. Their versatility is why jeans are a staple in my wardrobe because you can always dress them up or down depending on your mood or the occasion. When I saw this great classic white pin striped suit I knew I had to have it, but didn't think I'd wear both pieces together. Mixing and matching is definitely more fun! Again, being functional yet versatile is one of my favorite things!

Even though the jacket is nicely structured and tailored, I like that the fabric of the liner has a slight stretch to it so that you move with ease. The professional yet relaxed vibe of pairing the jacket with these open knee rigid jeans is why I like this combination so much. You really can wear this look anywhere, from the office to a Friday night out and even weekend lunch dates with friends. What I love about putting a suit jacket with casual pants is that the style is a marriage of everything I love about fashion. Comfortable and laid-back, but still sophisticated and elegant—can't get any better! But you don't have to just wear it with jeans either. The jacket would look so great with an evening dress or a form fitting skirt. You can even switch up the heels for a pair of white sneakers if you want. Talk about real casual dress up!