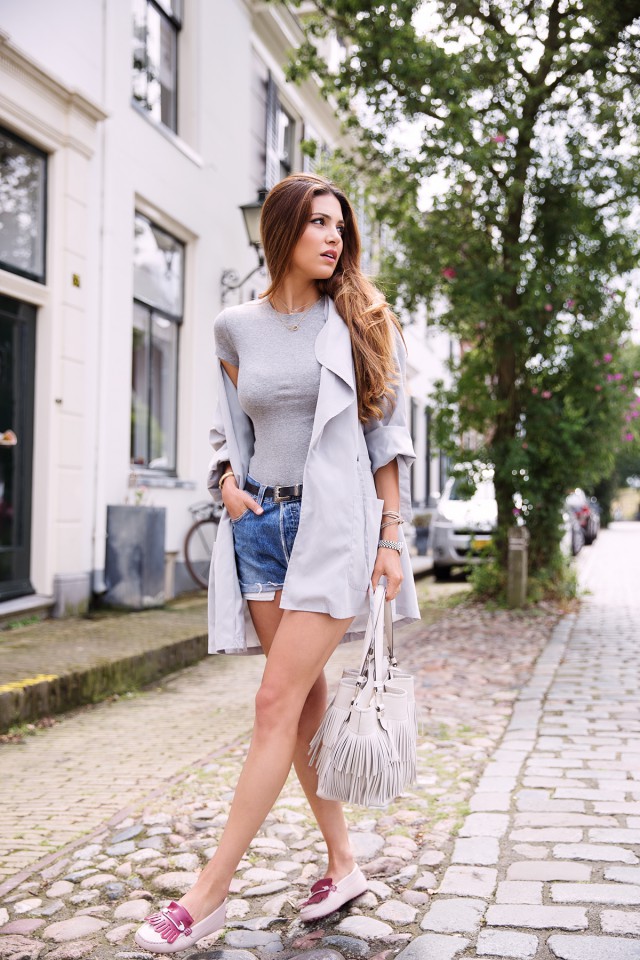 This blogpost is in collaboration with theluxer.com.
Our short vacation in Ibiza is now over and unlike the sunny island, it's been a little cloudy in Amsterdam. But, fortunately it still feels very much like summer—I just had to trade in my bathing suits for proper street attire. Now it's back to more meetings and collaborations, which is a nice change of pace! We're now continuing our work with Cartier here in Cap d'Antibes, which is so exciting and I can't wait to share more with you guys A
At home, I went back to some of my favorite basics with this particular look that plays well with the relaxed vibes of summer. When my clothing choices lean more towards minimalism, I like to rely on accessories to add some flare. I'm obsessed with this fringed grey Tod's small flower bag that I found on theluxer.com because it is incredibly versatile. The semi-glossy leather is so elegant with the stud detailing and fringing, which gives it some soft volume that makes any look more sophisticated. It can be paired with anything from denim to an all black or white outfit and it makes everything just a little more special. I like carrying something that can be used for multiple occasions and this bag is just that! To take this casual ensemble to another level, these bicolored Tod's Gommino leather driving shoes manage to enhance the basics. I'm all about the details on these flats. From the delicate exposed hand stitching to the iconic rubber pebble outsole, these flats take something simple and make it extraordinary. I also love the contrasting fringe detailing on top of the shoe. It's the perfect playful touch for summer. They're ideal for a quiet day, walking around town and spending time with friends. I hope you guys are enjoying this time of year as much as I am!