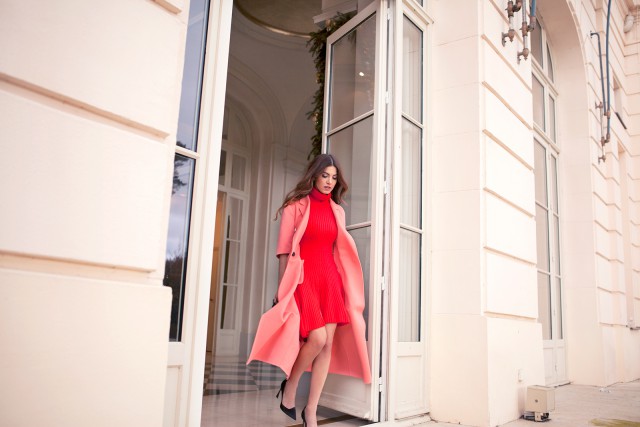 This blogpost is in collaboration with Christian Dior.
White walls, double doors, and iconic black and white tiles – the second part of our Dior shoot had that classic setting, which made me feel like I was heading a couple decades back in time. The look I was wearing breaths femininity with a French allure, mostly due to the coat that puts the waist in the center; the well-known Dior silhouette. It had a beautiful pink shade, which was an unexpected combination with the bright red, almost tangerine colored roll-neck dress underneath. As most of you know I love paying attention to details: notice the touch of leopard in the bag, and a white lacing on the side of the coat.

Besides this amazing outfit I was wearing J'Adore, one of Dior's iconic scents since 1999. I've always believed that wearing the right perfume can give your style—and your confidence—an added boost, which is exactly what J'Adore did for me that day. This fragrance is described as a bouquet of flowers meant for fascinating, sophisticated women who are unpredictable and spontaneous. The amphora-shaped bottle gives the fragrance a flowing design and it always reminds me of the ever beautiful film with Charlize Theron.

Concerning make-up I played with several eye-shadow shades like frosted silver, golden tones, dark grey, and a bronzy color – all packed in the 5 Couleurs-palette. I love how these eye shadows have different textures and finishes (matte, satin, and iridescent) to create a variety of results. The shimmery highlighter Diorshow Fusion Mono that I applied to the highest features of my face picked up the lights beautifully, just like the Diorific Vernis that gave my nails a festive touch.