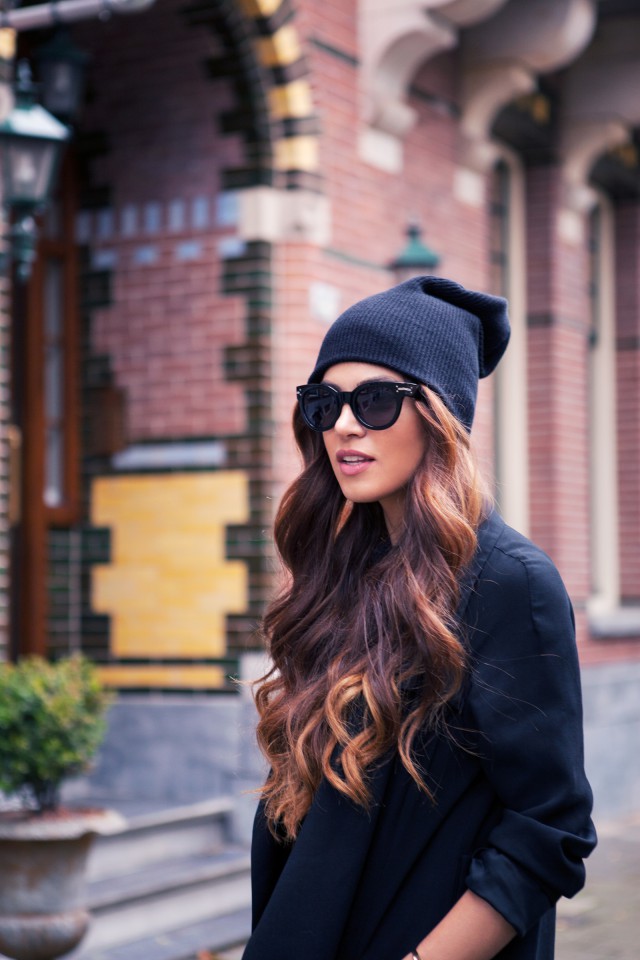 Can't go wrong with a total black look, right? It's Wednesday morning and both Maurits and I just attended the Facebook conference, where we were asked to do something special. We had the opportunity to share our story, about how it all began and what we've achieved so far. It makes me so happy to share these stories. Especially, since we get so much positive feedback from the audience. We could probably talk for hours about what we do (that's how passionate we are), and I think that a lot of people in the audience don't realize how much work goes behind all of it. We like these events to be very interactive where people from the audience can ask us questions all the time. It's amazing how many people want to know more about what we're doing and creating together.
Today it's all about this look, which was a very photogenic outfit thanks to the coat that was flowing with the wind. We found a backdrop that added some color in these pictures, which became really autumnal thanks to the dark green, light yellow and brown tones. We had a great time shooting this look in Amsterdam!

I'm a huge fan of going black from head to toe – providing that you're mixing up the materials. That's why I chose to combine a woolen sweater, mesh skirt, and a long coat made out of a soft and light fabric. I opted for bouncy curls, a beanie and my combat boots, which added something effortless and edgy to the look.

You guys know how much I love browsing on the internet to gain inspiration right? That's really how our story started anyway. During one of those browsing sessions I discovered a new platform which I couldn't wait to share with you. It's called WEAR: a shoppable lookbook full of styles created by the community, where you can find looks from international trendsetters and leading brands. What I specifically loved about WEAR is how it brings together the best fashion selection, so you can directly see where to purchase the items. You'll find this entire outfit on my profile here (I added a screenshot below). Are you going to take part of the community as well? You can sign up by downloading the app. Hope to see you there!
I was wearing
Long Flowy Coat*
Black Turtleneck*
Black Mesh Skirt (similar)
Black Beanie
Céline Sunglasses
PS11 Mini Classic Bag
* For exact product details, make sure to visit this link using your desktop