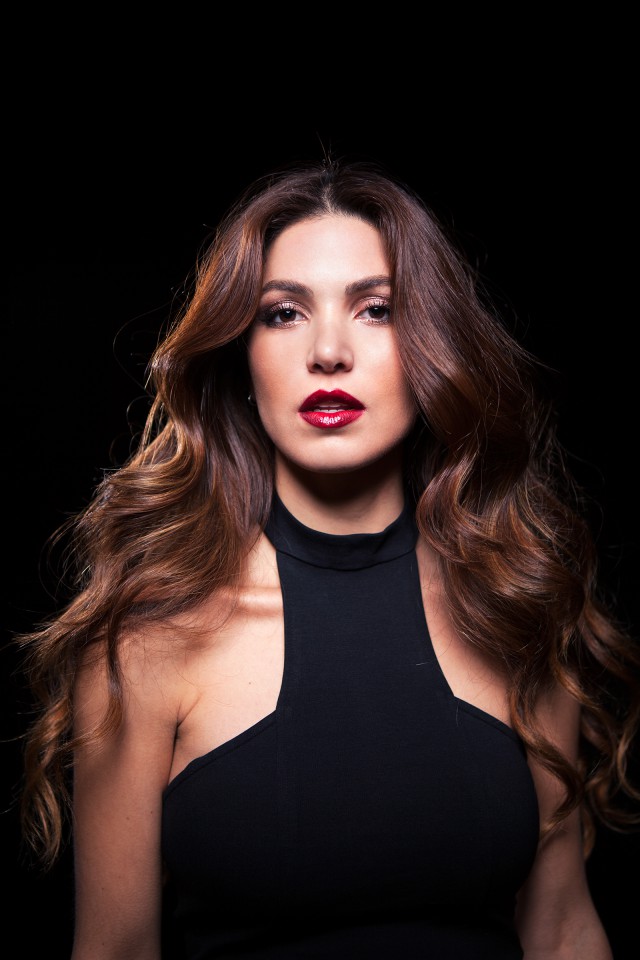 Christmas wouldn't be complete without a festive make-up look! That's why I wanted to dedicate a post to this glamorous-chic eye make-up and a classic red lip. After you achieved a flawless complexion, you probably want to go all out with a Christmassy look right? When it comes to the eyes I tend to use more brown, gold and bronze shades, which I believe suits every eye color. Continue reading to discover how to create this party-proof make-up look and discover some of my favorite tips and tricks!

(1) All About That Base
I'm starting off with the base, which is an eye shadow base from Sigma in Composed. This dark brown one will intensify the eye shadows that I'll apply next. Moreover, an eye shadow base ensures that your eye look will last longer.

(2) Creamy Bronze
Next I'm using Maybelline Color Tattoo (Bad To The Bronze), which is a cream based eye shadow. This product has a great color pay-off and gives the eyes a beautiful bronze glow. This eye shadow probably does the most to your eyes, so when you're in a hurry you could just apply the Color Tattoo (like I often do), put on some mascara and you're good to go! Perfect when you're in need of a quick 'Emergency Christmas' eye look or if you like to do to something a bit more special with your eyes on a regular day. E
Application (trick)
A little trick to achieve a neat application is to use a piece of paper and put it against the outer corner of your eyes (to the end of your eyebrow). When you finished applying the eye shadow you remove the paper and blend the edges a little.


(3) Golden Touch
Then I used a gold shimmery eye shadow from the Naked 3 palette, called 'Trick'. I only applied this in the middle of the eye, which is the highest point when your eyes are opened. This makes the eye look even more festive as the shimmer will reflect the lights beautifully. I also put some of the eye shadow in the inner corners of my eyes and the inner part of my lower lash line. Getting in a festive mood as I write this! A

(4) Intensify
The fourth step is to intensify the eye look. I achieved this by using an eye pencil from Bourjois (Brun Caramel), which is gold on one side and brown on the other. I used this on my waterline to complement the rest of the eye look. Besides the Bourjois pencil I used the Chanel eye liner (911 Ambre Doré) to connect the gold colored eye shadow with the dark liner underneath my eyes.

Also I've used a gel liner from Bobbi Brown in the color Espresso Ink. I think it's really nice to use a dark brown liner instead of a black one, because that might be a little too harsh. I ended with a little bit of a wing without overdoing it, because otherwise it might be too much.

(5) Lashes​
To finish off the eye look I used lots of mascara (like I always prefer), to really make the look feminine and festive. I applied several coats of the L'Oréal Telescopic Mascara – the waterproof version, as it holds the curl better. Next I used the 7 lash from MAC and decided to cut the lashes into 3/4 small little pieces, which I find looks more natural.

(6) Bold Red Lip
No classic glamorous look without adding a bold red lip, right? First I added Iconic from Hourglass, which is a blue-toned matte red lip color. On top of that I used a glossy product from KIKO to add some shine to my lips (yes I said we're going all out). I know what you're thinking, why not use a red lip stick that contains a shine? Well, here comes another trick: the matte one creates a long-lasting base, so when you're enjoying a Christmas dinner only the glossy lipstick will disappear, and you're left with a fantastic looking red lip the entire night!