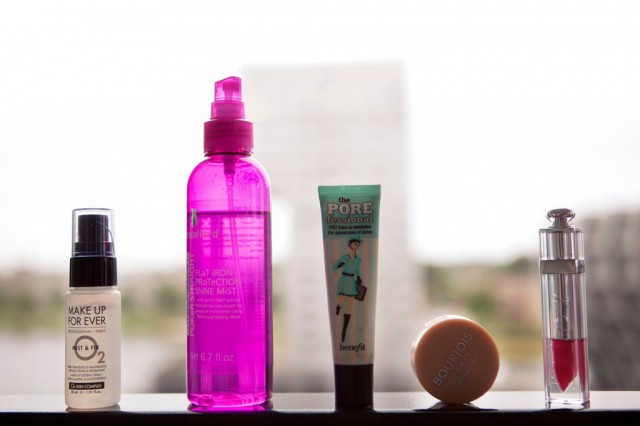 I'm so happy to be back home even though it's from a long week on my all-time favourite island, Ibiza. The first thing I wanted to do right after my arrival was to sit behind my laptop and share this new beauty post with you guys. Writing to you on my laptop makes me so happy and sometimes when I don't post anything on my blog for 1 or 2 days, I seriously miss it. Anyway, the 6 must-have beauty products I'm sharing seriously changed a lot for me and made my make-up routine so much more easy.

So I can't wait to tell you more about it, and hopefully at least one of these products will be helpful for you as well!

The 6 products that made a big change: 1 fixation (make-up) product, a hair product, one make-up primer, an eye-shadow, and a summer lip product.

So the first make-up related product I couldn't wait to share is this primer from Benefit called 'the Porefessional'. It's a product you use before applying your foundation and it helps to minimise pores but also smoothes the surface of small blemishes and makes it less visible. This primer really works, and you can already see it if you go to the store and test the product on just one hand, compare it to your other hand and you'll see how much it smoothes the surface of your skin. And what about the name of the product, genius! :)

Then an eye-shadow that I use for several places on my face. But first let me talk about its amazing colour and structure. It's from Bourjois (8) and has a true pearl colour and feel to it. It doesn't contain a shimmer but more of a shine which is just perfect for the areas I apply it to namely: eye-lid, inner-corners of my eyes, under the eye-brow, on the bridge of my nose, and a little bit above my upper-lip on the cupids bow.

Let's talk about lips! You guys know that overall I love a nice neutral lip shade. But when you want to go for a nice summer look, changing your lip colour alone will do the magic. Especially when using Dior's Fluid stick, I'm simply obsessed with this line. It contains all the advantages of a lip-gloss and lip-stick combined together. And when you have a sun-kissed look which you've achieved by the sun or with a good bronzer, I totally recommend checking out number 575. A beautiful hot pink colour with a coral undertone.

Let's talk about one of my all-time favourite hair products I recently re-discovered: Lee Stafford's heat protecting spray which is the best in protecting your hair from the heat styling tools which some of us use on a daily basis. Personally, I wash my hair every two to three days. For a while I honestly doubted whether these heat protecting sprays were really effective or not. So a few months back I met a lab-professor which works for a huge brand in the industry and he showed me all the scientific research that has been done about it and basically proves that heat-protecting sprays really help. It puts a layer on your hair which protects your hair from the heat. And the one by Lee Stafford has been the one that helped my hair a lot.

And the last products that seriously made a huge difference in my make-up routine is the finishing spray by Make-Up Forever. So you guys probably all know what these kind of products are about but just to make sure they promise to fixate your make-up, so it lasts the entire day. Two years back I bought two finishing sprays by Urban Decay but unfortunately it felt like it didn't do anything for the longiuity of my make-up. So the last time I was in New York (two months ago) I went to Sephora and asked a few Sephora-girls (a few just to make sure) and asked them about their favourite finishing spray and they all answered: Make-Up Forever. This stuff really works, even through NYC's heat!